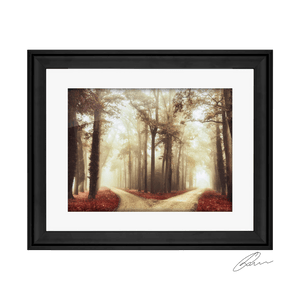 Turning left was not right
Sale price Price €290,00 Regular price Unit price / per
Tax included.
By Lars van de Goor
---
Does this represent a choice to make or looking back at one? This is where you are now, what's next?
Lars van de Goor places you in the middle of a thought process. The choice you make will differ from time to time and that is perfectly fine.

Over Floop
Launched in 2020, Floop has build an uniqie AI (Artificial Intelligence) to calculate the natural depth in a photo. With this data and a special printing procedure called Lenticulair printing we are bringing a new dimension (the third :) into the printing of photos. From vintage to your latest phone shots and from snapshots to high art, our technique delivers something unique and stunning.

Afwerking
Every Floop is handproduced and checked by us.

Wall art impression

Every print in your living room is an eyecatcher. Although the image is still, you get a feeling subtle feeling of depth.


Worldwide Shipping
Highlight key information to make people quickly impressed by service



Money Back Guarantee
Highlight key information to make people quickly impressed by service

Support 24/7
Highlight key information to make people quickly impressed by service
Frequently Bought Together