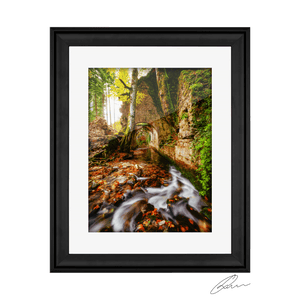 Real Fábrica de Armas de Eugi
Sale price Price €290,00 Regular price Unit price / per
Tax included.
By Lars van de Goor
---
A 17th centery site in the middle of a deep forest. A sight straight out of The Jungle Book, with the exemption that this is Spain. Nature has won this battle against man made infrastructure and graced it with its dominant presence.
Lars van de Goor deliverse a picture that invites you to wade barefoot through the stream, wanting to discover what is behind the many archways of fabrica de Armas de Eugi.

This collection is limited to 200 prints per work. No more Floops of this image will be printed afterwards. It comes with a certificate of authenticity. Every photo is converted into 3D with our special Floop technology.
Over Floop
Launched in 2020, Floop has build an uniqie AI (Artificial Intelligence) to calculate the natural depth in a photo. With this data and a special printing procedure called Lenticulair printing we are bringing a new dimension (the third :) into the printing of photos. From vintage to your latest phone shots and from snapshots to high art, our technique delivers something unique and stunning.

Afwerking
Every Floop is handproduced and checked by us.

Wall art impression

Every print in your living room is an eyecatcher. Although the image is still, you get a feeling subtle feeling of depth.


Worldwide Shipping
Highlight key information to make people quickly impressed by service



Money Back Guarantee
Highlight key information to make people quickly impressed by service

Support 24/7
Highlight key information to make people quickly impressed by service
Frequently Bought Together