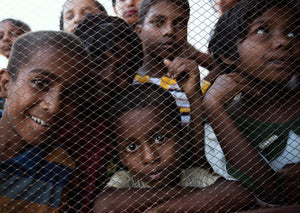 Behind the Wire
Sale price Price $1,318.00 Regular price Unit price / per
Tax included.
'This photograph was taken while sitting in an English class in the heart of Kutupalong refugee camp. The door was covered in chicken wire and as there was limited room for students, children crowded outside to listen to what was happening, all eager to learn and all eager make their own lives better'. - Marcus Valance

--
'Behind the Wire' is part of the Photographers Limited art series by Floop Photography titled 'Hope'. In this six part series Marcus Valance brings us to Cox's Bazar in Bangladesh and introduced us to some really strong children.
All works are printed in a limited 3D Flooped run of 5 prints per piece. All are numbered and signed by the artist and come with a certificate of authenticity.
The work Suharah in this series has been used as cover photo for Malala Yousafzai's book 'we are displaced. To celebrate this and honour the strenght en resilience of 'Displaced' children all around the world. Floop and Marcus Valance will donate 25% of all earnings of this series to the Malala Fund
Size: A2/594 x 420 mm/ 23.4 x 16.5 in 

Over Floop
Launched in 2020, Floop has build an uniqie AI (Artificial Intelligence) to calculate the natural depth in a photo. With this data and a special printing procedure called Lenticulair printing we are bringing a new dimension (the third :) into the printing of photos. From vintage to your latest phone shots and from snapshots to high art, our technique delivers something unique and stunning.

Afwerking
Every Floop is handproduced and checked by us.

Wall art impression

Every print in your living room is an eyecatcher. Although the image is still, you get a feeling subtle feeling of depth.


Worldwide Shipping
Highlight key information to make people quickly impressed by service



Money Back Guarantee
Highlight key information to make people quickly impressed by service

Support 24/7
Highlight key information to make people quickly impressed by service
Frequently Bought Together