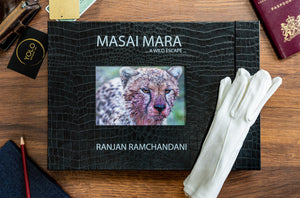 Masai Mara *Limited edition
Sale price Price $384.42 Regular price Unit price / per
Tax included.
A wild escape by Ranjan Ramchandani
Floop Photography is honoured to present the world's first AI-enabled 3D Wildlife photo book. Through 40 spectacular images collected in one deluxe art book, critically acclaimed wildlife photographer Ranjan Ramchandani transports us to the Masai Mara and brings us face to face with its majestic wildlife.
This limited edition is numbered and signed by the author, and includes a bonus image not found in other prints of a wild escape
This product will be sold on a first come first serve basis. There are only 50 copies available for purchase.
*Shipment timing could vary due to COVID restrictions
** Presented book layout is now being completed and printing to start as soon as lockdown measures are eased

Over Floop
Launched in 2020, Floop has build an uniqie AI (Artificial Intelligence) to calculate the natural depth in a photo. With this data and a special printing procedure called Lenticulair printing we are bringing a new dimension (the third :) into the printing of photos. From vintage to your latest phone shots and from snapshots to high art, our technique delivers something unique and stunning.

Afwerking
Every Floop is handproduced and checked by us.

Wall art impression

Every print in your living room is an eyecatcher. Although the image is still, you get a feeling subtle feeling of depth.


Worldwide Shipping
Highlight key information to make people quickly impressed by service



Money Back Guarantee
Highlight key information to make people quickly impressed by service

Support 24/7
Highlight key information to make people quickly impressed by service
Frequently Bought Together